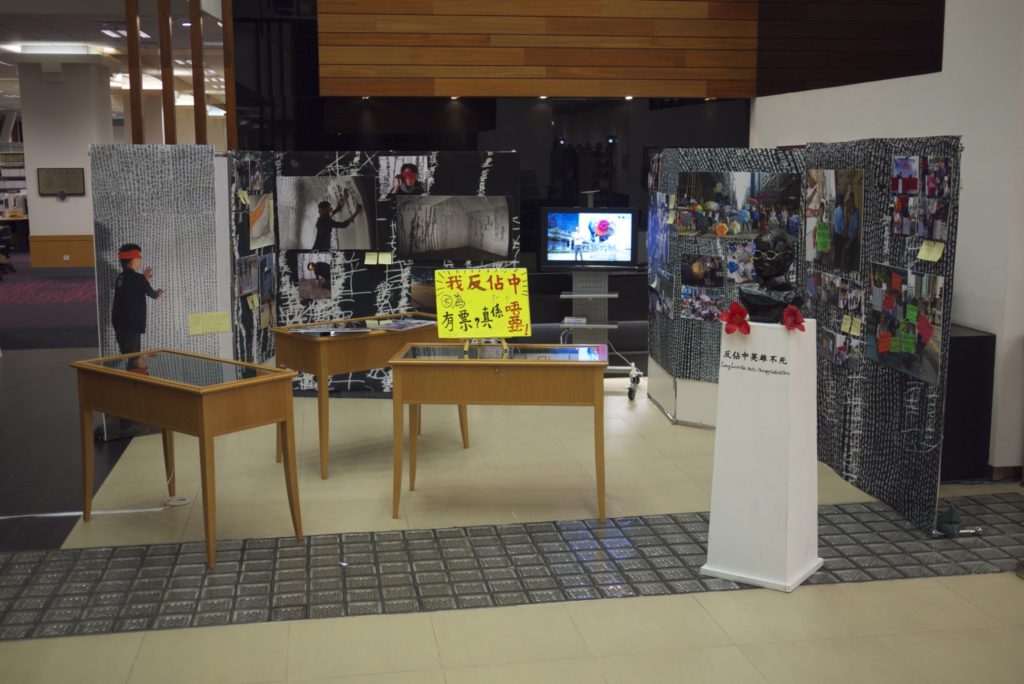 在蜂擁地緬懷過去半年香港社會/公民運動的熾熱激情外,如何冷靜的抽離的或是批判的檢視藝術與社運的美學可能?
沒有一把把張開的傘,也沒有遍地開花的黃色調和連儂牆,只有在反複書寫的「我要真普選」,以及一些行動和演出的影像紀錄、相關物品和金句擇錄。
特邀曾在一些行動中交匯的阿三、張嘉莉、林嵐及原人,以黑色幽默的反諷,或是窩心的書信等,平行展現過去與現在。
行動,需要想像、反思,和再想像。
­
­
An experiment to review my actions/performances as part of the civil struggles in Hong Kong during, right before and after the Umbrella Movement in 2014 from a critical distance.
This project also invited Chan Sai Lok, Clara Cheung, Jaffa Lam and Yuen Yan to contribute their stories of joining my civil actions in various points.
Photo and video documentations of related actions and performance were shown.
 ­
曾狂言:「沒有藝術的話我的生命早完蛋了。」在紛擾瘋狂的時代裏,抗命成了生活的日常,唯有以強壯的想像,才能超越敵對矛盾的仇恨。藝術不只是教人驚喜的鬼主意,也是以關懷之心,改變二元的刻板關係,用那怕是最微小的行動,滋養錯縱複雜的生命,和萬物。
i can imagine everything but living without art.  imagaination allows me to go beyond the dead end of binary opposition.  art for me is more than creativity, but also to realize an ideal humanity which nurtures all lives in the world and the universe.  even small acts can make a change.
­ ­
special thanks to Lisa Leung & Terence Cheung of Lingnan University and hey_fruit for her assistance.
>>張穎淇〈 「我寫下了一萬次我要真普選」〉,《評台》,2015年2月13日
---
this project is as part of the 
creativity movement space, Prelude to Lingnan Arts Festival 2015, 5-27/02/2015