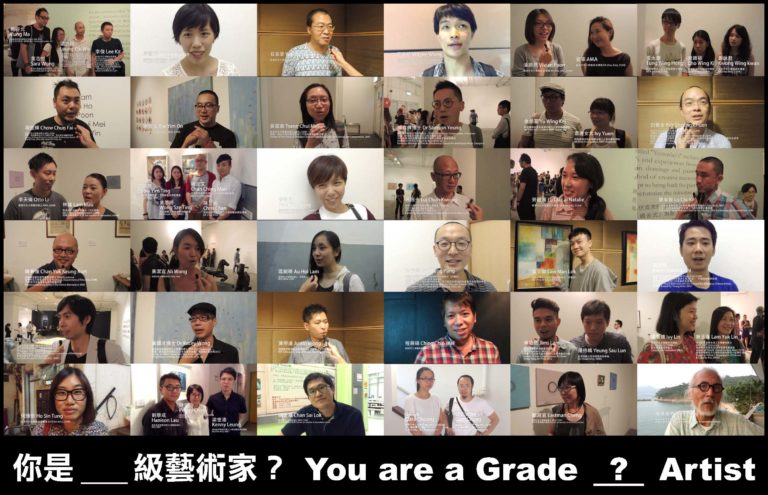 像藝術家一樣畫畫
也許,故事該從小學二年級的美術科考試說起。題目是「花」,我用不同顏色的臘筆一層一層的畫了花瓣,以為顏料可以泛起層層的彩虹,卻漸漸混濁成曖昧不明的色調,老師看後高聲說:這花好醜。然後成績單上美術科獲「丁」級,與其他各科的甲乙等級格格不入,自此我沒用心上過一堂美術課,也沒信心畫好一幅畫。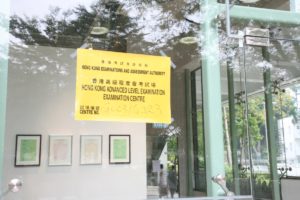 朋友問,從事視藝創作也十年了,現在才做第一次個展,算不算太遲?作為一個無跡可循的「自學」藝術家,總被歸納為「行為藝術」類,既不隸屬某些學院的系譜,更不見得能安身於精緻的藝術展場上;我知道自己總愛走在迂迴曲節的野路上,享受沿途迷失的風景。如果世界是個競技場,這樣也就注定會是輸在起跑線上吧?
不敢說得太清高,其實我只希望透過藝術和創作,面對和反思生命的真實。
活在一個功利的社會,藝術本身不就是邊緣的活動嗎?而愈在社會的邊陲,則愈有一套自成一角的規章,讓它成為一種不能僭越的典範,或是唯我獨尊的優越。藝術的考試,正正為這種既有典範築起更牢固的城樓。成王敗寇、一戰定輸贏的說法,套在藝術創作或者會像個笑話,尤其是當代藝術強調的是開放和多元,而考試強調的卻是最傳統的媒介之一:繪畫。可是我們又往往會因循守舊,半推半就的讓它延續著。
曾經,考試是我們無可避免的路途,公開試更是必經的關口,過關斬將後自是逃之夭夭或甚至抛諸腦後,但對於一個從來總在門外徘徊的好事之徒,卻可以是尋幽訪勝、以身試法的缺口。
於是我就誠惶誠恐的走進兩個殖民遺物的公開試,從零開始再新學習繪畫,以血肉之軀迎接不能逆改的審判。
2011年最後一屆香港中學會考舉行了,我和許多在新學制之前蹴躕不定的年青人一起走進了試場,背包裡有些之前做作品剩餘的廣告彩顏料,還有一些在學時代留下的畫筆,也夾雜閒來練字用的毛筆和墨水,和一份當天在車站隨手得來的免費報紙。甫坐下同學們已整出畫板畫架和各式顏料,打開試題後我唯有怯生生地在兩張學生桌併合之上用大間尺畫畫畫,選題「讓人驚奇的新聞」,就把那報紙抄畫到畫紙上。那年,成績單上同是「丁」級卻已教我鬆一口氣,然後我決定找來一位北京著名學府中央美術學院畢業的王老師,從基本功開始學習繪畫。
當創作已是一種嫻熟的手法,要虛心地重新拿捏另一種全然陌生(甚至心生恐懼)的方式,實在不比想像中容易,尤其是對於從來沒既定章法的我來說。由排線條到立體透視,由眼看到手動,從黑白到彩色,由臨摹到再造,從懵懂混沌到美學思考……衝擊反而成為重新思考藝術的契機。如是,我以兩年來純粹學習的幼嫩畫技,帶備了畫板畫架畫筆和顏料,走進2013年最後一屆香港高級程度會考。
實在,一個丁級藝術家的命運,在這種繃緊的制度裏,又豈容易平反?問問香港的視覺藝術家們,有的驕傲地說當年如何操練如何取巧勇奪佳績,但對當年不甚了了的丙丁級不以為意一笑置之的也大有人在。而我呢?
繞了好多圈子,如今終於走到大學視覺藝術院的門前,正好讓我把這些年來儲備的創作能量孤注一擲,看看在制度的巨輪裏,菱角會不會被磨平,又或是(被)卡住了。謝謝高考評卷員給我的作品集打了只差一分的滿分,而兩年的畫技訓練卻換來繪畫試卷更低的分數。丁級藝術家不是一個笑話,而是要時刻提醒我,在正在野也好,如何把持決志成為藝術家的初衷。共勉。
Painting like an Artist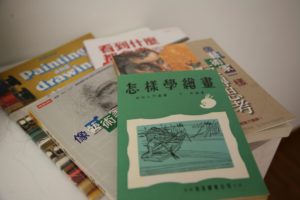 The story began when I was doing the Art examination in Primary 2.  I was drawing a flower with crayons, layering different colours on the pedals.  I thought that the layers of colours would become a rainbow by scraping, but they were mixed into a dreadful tone.  "This flower looks so ugly," my teacher told the whole class loudly, and then I got a Grade D for Art, in contrast to the grades A and B for other subjects.  Since then, I had not paid any attention in the Art classes in school and got no confidence in painting or drawing at all.
I have been asked whether it is too late to have my first solo exhibition after working as a visual artist for 10 years.  As a 'self-taught' artist who has no path to follow, I am often labelled as 'performance artist' and do not belong to the family of any art school.  I do not see myself fitting into the very kind of fine art exhibitions either.  I enjoy detouring around and getting lost.  If the world is said to be a competition, I am destined to be a loser at the beginning.
I do not mean to be aloof; I just seek to deal with and reflect on the reality of life through my practice of art-making.
In a utilitarian society, art is a rather marginal thing.  The more marginal it is, the more it has developed a set of self-contained rules and norms that are superior and cannot be overthrown easily.  The system of art examination is indeed the reinforcement of these rules and norms.  The notion of competition, winner and loser may sound like a joke in art-making practices, especially in the context of contemporary art which embraces openness and diversity.  However, as the art examinations are still focusing on one of the most traditional media, that is painting, we would follow the rules and carry on reluctantly.
Once, examination seems to be the inevitable route for us, and taking public examinations is a must too.  One may run away or forget about it after going through them.  Nevertheless, for an outsider lingering along the border, examinations are to be explored and tested by one's participation.
So, I decided to take the last two public examinations remained behind by the colonial system and started learning painting from zero.  I look forward to the tests for having no more chance of re-taking them in future.
In 2011, I sat the Hong Kong Certificate of Education Examination (HKCEE) together with all other young students pausing before the reformed education system,.  I took with me some poster colours left over by my previous projects, paint brushes used during school time, Chinese ink and brushes that I use for calligraphy practising at leisure, as well as a copy of the free newspaper I grabbed in the train station that morning, while other students all prepared well their easels, drawing boards, etc for the exam.  I was so anxious to draw with ruler and copy my newspaper so as to answer the question in the exam paper: An Amazing News Item.  That year, I was indeed relieved to get a grade D, and after that, I decided to start learning painting from Yanny, an art teacher graduated from the renowned Central Academy of Fine Art in Beijing.
To humbly learn an entirely unknown skills (and haunted by traumatic experience at the same time) has been more uneasy than imagined, when one has well developed one's own creative skills, and especially for me who do not follow conventions from time to time.  From lines to panes, from seeing to hand-drawing, from copying to re-creation, from confusion to aesthetic exploration, the shock I have experienced informs my reflection upon art.  With the unsophisticated painting skills I have acquired genuinely for 2 years, I took with me the easel, drawing board, paints, etc and sat the very last Hong Kong Advanced Level Examination (HKALE) in 2013.
Indeed, can the destiny of a grade D artist be challenged easily in such a rigid system?  Talking to other practising visual artists in Hong Kong, one can see some of them proudly present how they drilled their skills or did the trick so as to obtain high marks in the exam.  There are also others who do not care about or laugh off their grades C and D.   How about me?
After a long detour, I now arrive at the door of the Academy of Visual Arts.  It is the time for me to stake all my long-reserved creative energies on one – will I remain spiky or get stuck within the institution?  Thanks to the HKALE examiners who give me almost full marks to my portfolio.  However, I score even lower marks in the painting/drawing papers than the HKCEE one after 2 years of art training.  "Grade D artist" is not a joke, but a reminder of my original intent of becoming an artist from time to time, no matter where I stand up or down.   Hurray.
(2011-2013年間,魂游跟隨北京中央美術學院畢業的老師,從基本功開始學習繪畫。
From 2011 to 2013, wen yau studied with an art teacher graduated from the renowned  Central Academy of Fine Art in Beijing, for the fundamental painting technique.)
---
中文版原刊於《明報》,D4頁,30/10/2013